Custom Stickers for Your Brand.
More sizes. More options. More chances to show off your brand.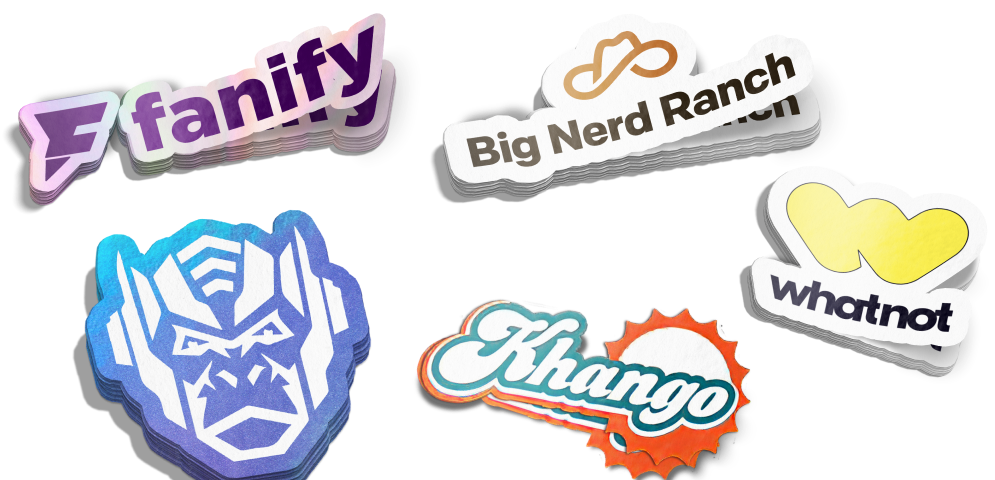 Custom stickers
Custom stickers are an excellent tool for promoting your brand, expressing your creativity, and leaving a lasting impression. Whether you're a business owner looking to enhance your marketing efforts or an individual seeking a unique way to personalize your belongings, custom stickers offer endless possibilities. With customizable designs, shapes, and sizes, you can create stickers that perfectly align with your brand identity or reflect your style. From sleek and professional to fun and whimsical, the choice is yours.
Personalized stickers offer versatility in application, adhering seamlessly to a wide range of surfaces such as laptops, water bottles, packaging, car windows, and beyond. This versatility allows you to expand your brand's visibility and reach a wider audience. When it comes to the quality of custom stickers, we prioritize durability. Our stickers are crafted using high-quality materials and coated with a protective lamination, ensuring they can withstand the test of time. They are water-resistant, scratch-resistant, and fade-resistant, ensuring your message stays vibrant and intact for years.
Custom stickers offer a creative outlet for personal expression. Unleash your creativity and design custom stickers that express your unique hobbies and interests, adding a personal touch to your belongings. Ordering custom stickers is a seamless process. With our user-friendly website, you can upload your designs or work with our design team to create something unique. We offer a range of customization options, including different shapes, sizes, colors, and finishes, allowing you to bring your vision to life.
Embrace the versatility of stickers, a perfect addition to enhance your personal and professional endeavors. Whether you seek to personalize your laptop or showcase your company logo, our Sticker Maker empowers you with limitless possibilities for self-expression and customization.
Don't see what you're looking for?
Contact us through chat or call us at

+1 855 445 8438

, Review our FAQ here or search above.